Posts for tag: gum disease
By Janis Dental
October 10, 2018
Cardiovascular disease and periodontal (gum) disease are two different conditions with their own set of symptoms and outcomes. But they do share one common element: inflammation. In fact, this otherwise normal defensive response of the body might actually create a link between them.
When tissues become damaged from disease or injury, the body triggers inflammation to isolate them from the rest of the body. This allows these tissues to heal without affecting other tissues. If inflammation becomes chronic, however, it can damage rather than protect the body.
This happens with both cardiovascular disease and gum disease. In the former, low-density lipoproteins (LDL or "bad cholesterol") in animal fat leave behind remnants that can build up within arteries. This stimulates inflammation of the vessel's inner linings, which accelerates hardening and increases the risk of heart attack or stroke.
With gum disease, bacteria living in a thin, built-up film of food particles on the teeth called plaque infect the gum tissues, which in turn trigger inflammation. A struggle ensures between the infection and inflammation, causing the gum tissues to weaken and detach from the teeth. Coupled with erosion of the supporting bone, the risk of tooth loss dramatically increases.
Recent research now seems to indicate the inflammatory responses from these two diseases may not occur in isolation. There is evidence that gum inflammation could aggravate inflammation in the cardiovascular system, and vice-versa. The research, though, points to some possible good news: treating inflammation in either disease could have a positive effect on the other.
Making heart-friendly lifestyle changes like losing extra weight (especially around the waist), improving nutrition, and exercising regularly can help reduce LDL and lower the risk of arterial inflammation. Likewise for your gums, daily oral hygiene and visiting the dentist at least twice a year reduces the risk for gum disease. And at the first sign of a gum infection—swollen, reddened or bleeding gums—seeking immediate treatment will stop it and reduce any occurring inflammation.
Taking steps to prevent or reduce inflammation brought on by both of these diseases could improve your health and save your life.
If you would like more information on how your oral health affects your whole body, please contact us or schedule an appointment for a consultation. You can also learn more about this topic by reading the Dear Doctor magazine article "The Link between Heart & Gum Disease."
By Janis Dental
June 21, 2018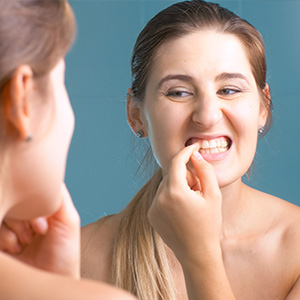 It takes only a few days of inadequate oral hygiene for bacterial plaque to trigger the periodontal (gum) disease gingivitis. Though sometimes subtle, there are signs to watch for like inflamed, reddened or bleeding gums.
Untreated gingivitis can develop into more advanced forms of gum disease that infect deeper levels of the gums and supporting bone and ultimately cause bone and tooth loss. Fortunately, though, prompt treatment by a dentist removing plaque from teeth and gums, along with you reinstituting daily brushing and flossing, can stop gingivitis and help restore health to your gums.
If you're under acute stress or anxiety, however, basic gingivitis can develop into something much more serious and painful, a condition called Acute Necrotizing Ulcerative Gingivitis (ANUG). It's also known as "trench mouth" from its common occurrence among World War I soldiers experiencing stressful periods in front line trenches without the means for proper oral hygiene.
ANUG develops from a "perfect storm" of conditions: besides anxiety and deficient hygiene practices, ANUG has a high occurrence risk in people who smoke (which dries the mouth and changes the normal populations of oral bacteria) or have issues with general health or nutrition.
In contrast to many cases of basic gingivitis, ANUG can produce highly noticeable symptoms. The gum tissues begin to die and become ulcerative and yellowish in appearance. This can create very bad breath and taste along with extreme gum pain.
The good news is ANUG can be treated and completely reversed if caught early. In addition to plaque removal, the dentist or periodontist (a specialist in the treatment of gum disease) may prescribe antibiotics along with an antibacterial mouthrinse to reduce bacteria levels in the mouth. A person with ANUG may also need pain relief, usually with over-the-counter drugs like aspirin or ibuprofen.
It's important that you seek treatment as soon as possible if you suspect you have ANUG or any gum disease. It's possible to lose tissue, particularly the papillae (the small triangle of tissue between teeth), which can have an adverse effect on your appearance. You can also reduce your risk by quitting smoking, addressing any stress issues, and practicing diligent, daily oral hygiene and visiting your dentist for cleanings and checkups twice a year or more if needed.
If you would like more information on the signs and treatments for gum disease, please contact us or schedule an appointment for a consultation. You can also learn more about this topic by reading the Dear Doctor magazine article "Painful Gums in Teens & Adults."
By Janis Dental
March 22, 2018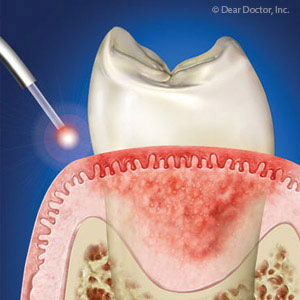 One of the most important revolutions in healthcare in recent decades is the increasing use of lasers. Now, laser technology is making a showing in dental care for the treatment of periodontal (gum) disease.
Lasers (an acronym for "Light Amplification by Stimulated Emission of Radiation") narrowly focus and amplify light within a small area. First developed in the early 1960s, laser technology rapidly advanced in the ensuing decades with more compact and precise devices that were eventually safe and effective for many types of medical procedures. Its remarkable features are now available for the primary focus of gum disease treatment—removing bacterial plaque.
Plaque is a thin, built-up film of bacteria and food particles on tooth and gum surfaces that serves as a haven for the bacteria that cause gum disease. The continuing presence of plaque and calculus (tartar) enables the infection to thrive and advance within the gum tissues, ultimately damaging them along with supporting bone. As the tissues weaken and bone volume diminishes, the teeth are at greater risk for loss.
It's necessary, therefore, first and foremost to remove all detectable plaque and calculus to stop the infection. This is traditionally done with special hand tools called scalers used to manually remove plaque, or with ultrasonic equipment that vibrates plaque loose to be flushed away with water. These procedures can take numerous sessions and may result in some minor post-procedural discomfort and bleeding during the cleaning.
But lasers specifically designed for plaque removal can minimize tissue damage and resulting discomfort. Because the particular laser light used reacts only with plaque and diseased tissue, it can remove them without disturbing nearby healthy tissue usually more efficiently than traditional scaling. Dentists who've used the technology frequently report less bleeding and higher patient satisfaction.
But before lasers for gum disease treatment are widely adopted, the procedure must undergo further scrutiny. Reports from dentists notwithstanding, not enough research studies have been performed to date that meet the necessary scientific criteria. But if the evidence so far from the field holds up, it's quite possible lasers will one day become a regular part of dental practice for treating gum disease.
If you would like more information on treating gum disease, please contact us or schedule an appointment for a consultation. You can also learn more about this topic by reading the Dear Doctor magazine article "Lasers Versus Traditional Cleanings for Treating Gum Disease."