Posts for tag: aging
By Janis Dental
January 17, 2022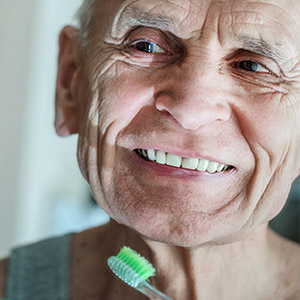 Know how to get the better of an age-guesser at the carnival? Smile! A recent study found that people tend to underestimate a person's age if they're smiling.
If true, smiling—naturally associated with youthfulness—might help you look younger than you are. Unfortunately, many older people smile less, self-conscious about the effects of aging on their teeth and gums. Their smile doesn't have the same zing as when they were younger.
If that's how you feel about your smile, a cosmetic dentist can help. Here are 3 common age-related problems a skilled dentist can help you improve.
Discoloration. After decades of eating, drinking and possibly smoking, teeth enamel can yellow and dull. But there are ways to brighten discolored teeth. One simple measure is to undergo teeth whitening with a bleaching solution. On a more permanent note, bonding tooth-colored materials, porcelain veneers or life-like dental crowns to teeth can mask stains and other imperfections.
Wearing. Speaking of all those meals, you can expect some teeth wearing later in life that makes them look shorter, and their shape and edges sharper rather than softer and rounded like a youthful smile. Dentists can improve the appearance of worn teeth by reshaping and contouring them to soften harsh edges. A procedure called crown lengthening can reposition the gums to display more of the teeth. Veneers or crowns can also transform the appearance of severely worn teeth.
Receding gums. There's also a contrasting gum problem. What some call "getting long in the tooth," The teeth look longer because the gums have receded from their normal coverage. This is often caused by gum disease, which older people encounter more than other age groups. After treating the infection, the gums may need help regaining their former position by grafting donor tissue to the area to encourage regrowth.
The effects of aging on teeth and gums are quite common, but you don't have to live with them. With a few appropriate techniques and procedures, your dentist can bring back the smile you once had—or one even better.
If you would like more information on maintaining a youthful smile, please contact us or schedule an appointment for a consultation. You can also learn more about this topic by reading the Dear Doctor magazine article "How Your Dentist Can Help You Look Younger."
By Janis Dental
April 22, 2021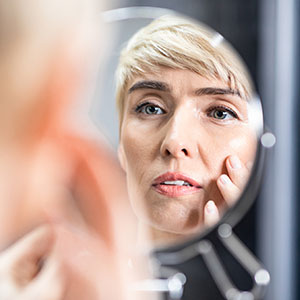 Correcting a bite problem involves more than applying braces. Orthodontists must consider a wide range of factors, including the type of bite problem involved, complications like impacted or missing teeth, and their patient's overall dental condition.
Orthodontists must also keep in mind the future—how will a treatment implemented now impact a patient's appearance and dental function many years from now? In reality, orthodontists perform these treatments within a dynamic growth environment, especially involving children and teenagers whose mouth and facial structures are still maturing.
And although these growth changes slow in adulthood, they don't stop—orofacial structures continue to change throughout life. For example, a person's lips steadily thicken in size until the mid-teen years, and then slowly thin out over the rest of their lifetime. The distance between the lips both at rest and while smiling may also narrow in later years. Other changes continue to occur in the bones and soft tissues of the mouth and face.
Fortunately, this structural growth follows a fairly consistent track. Although variations do occur, an orthodontist can project the growth changes their patients will undergo as they age, and use that knowledge to plan out bite treatment. With this understanding, orthodontists plan not only what treatments will be needed, but when to perform them, and to what extent.
This may involve a number of treatment stages, spaced out to coincide with regular development. An orthodontist may focus first on general bite correction to bring the teeth and jaws into a reasonable state of alignment. Later, they'll use more refined methods to fine-tune corrections that better align with later adult growth.
More intensive treatments may be necessary to build a foundation for future treatment. For example, orthognathic surgery may be needed to correct a severe case of an over-extended lower jaw. During the procedure, surgeons move the lower jaw to a joint position higher on the skull. This retracts the lower jaw into a more normal alignment with the upper jaw, and can dramatically change the facial profile for the better.
Each orthodontic patient is different, and each requires their own a unique treatment plan. That plan has a greater chance of long-term success by applying knowledge of future growth changes.
If you would like more information on orthodontic treatment, please contact us or schedule an appointment for a consultation. You can also learn more about this topic by reading the Dear Doctor magazine article "Understanding Aging Makes Beauty Timeless."