Posts for tag: vaping
By Janis Dental
October 09, 2020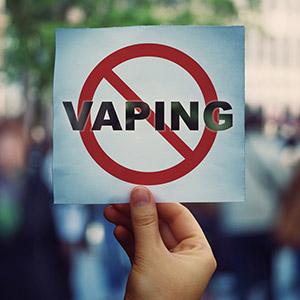 E-cigarettes have taken the world by storm, especially among younger adults. The reason: the widespread perception that "vaping" is healthier than smoking tobacco.
But a deeper look at this wildly popular habit reveals a product that doesn't live up to its reputation as smoking's "safer alternative." One aspect of health that's especially in harm's way is the mouth: Teeth and gums could in fact be just as prone to disease with an e-cigarette as the tobacco variety.
E-cigarettes are handheld devices that hold a cartridge of liquid vaping product, which is then heated to produce an inhalable vapor. Technically, it's an aerosol in which solid chemical compounds within the vaping liquid are suspended in the vapor. The aerosolized vapor thus serves as a transporting medium for these chemicals to enter the user's body.
It's these various chemicals inhaled during vaping that most concern dentists. Top on the list: nicotine, the addictive chemical also found in regular tobacco. Among its other effects, nicotine constricts blood vessels in the mouth, causing less blood flow of nutrients and infection-fighting cells to the gums and teeth. This not only heightens the risk for gum disease, but may also mask initial infection symptoms like swelling or redness.
Flavorings, a popular feature of vaping solutions, may also contribute to oral problems. These substances can form new chemical compounds during the vaping process that can irritate the mouth's inner membranes and trigger inflammation. There's also evidence that e-cigarette flavorings, particularly menthol, might soften enamel and increase the risk of tooth decay.
Other chemicals commonly found in vaping solutions are thought to increase plaque formation, the sticky film on teeth that is a major cause for dental disease. And known carcinogens like formaldehyde, also included in many formulations, raise the specter of oral cancer.
These are just a few of the possible ways vaping may damage oral health. Far from a safe tobacco alternative, there's reason to believe it could be just as harmful. The wise choice for your body and your mouth is not to smoke—or vape.
If you would like more information on the oral hazards of e-cigarettes, please contact us or schedule an appointment for a consultation. You can also learn more about this topic by reading the Dear Doctor magazine article "Vaping and Oral Health."
By Janis Dental
August 10, 2020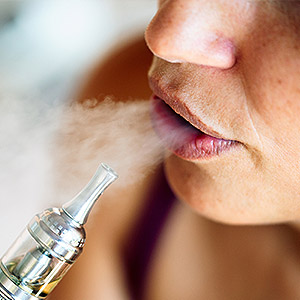 There's ample evidence tobacco smoking increases your risk for tooth decay and periodontal (gum) disease. But the same may be true for electronic cigarettes (E-cigs): Although millions have turned to "vaping" believing it's a safer alternative to smoking, there are growing signs it might also be harmful to oral health.
An E-cig is a device with a chamber that holds a liquid solution. An attached heater turns the liquid into a vapor the user inhales, containing nicotine, flavorings and other substances. Because it doesn't contain tar and other toxic substances found in tobacco, many see vaping as a safer way to get a nicotine hit.
But a number of recent research studies seem to show vaping isn't without harmful oral effects. A study from Ohio State University produced evidence that E-cig vapor interferes with the mouth's bacterial environment, or oral microbiome, by disrupting the balance between harmful and beneficial bacteria in favor of the former. Such a disruption can increase the risk for gum disease.
Other studies from the University of Rochester, New York and Universit? Laval in Quebec, Canada also found evidence for vaping's negative effects on oral cells. The Rochester study found astringent flavorings and other substances in vaping solutions can damage cells. The Quebec study found a staggering increase in the normal oral cell death rate from 2% to 53% in three days after exposure to E-cig vapor.
Nicotine, E-cig's common link with tobacco, is itself problematic for oral health. This addictive chemical constricts blood vessels and reduces blood flow to the mouth's tissues. This not only impedes the delivery of nutrients to individual cells, but also reduces available antibodies necessary to fight bacterial infections. Regardless of how nicotine enters the body—whether through smoking or vaping—it can increase the risk of gum disease.
These are the first studies of their kind, with many more needed to fully understand the effects of vaping on the mouth. But the preliminary evidence they do show should cause anyone using or considering E-cigs as an alternative to smoking to think twice. Your oral health may be hanging in the balance.
If you would like more information on the effects of vaping on oral health, please contact us or schedule an appointment for a consultation.